Nine democratic candidates meet to discuss LGBT+ issues in America at CNN's LGBTQ Town Hall
On October 11th, nine of the Democratic candidates for the 2020 Presidential election gathered in CNN's LGBTQ Town Hall to discuss the discrimination and oppression against the LGBTQ+ community in America and take questions on LGBTQ+ issues from a live studio audience.
New Jersey senator Cory Booker described the violence against LGBTQ Americans as a "national emergency." He has also proposed a possible Office on Hate Crimes and White Supremacy.
Joe Biden, former vice president, stressed the necessity of rooting out discrimination and homophobia, and he also asked if a country's treatment of gay people should have an effect on American foreign policy.
Pete Buttigieg, the mayor of South Bend, Indiana, said he would overhaul rules prohibiting gay men who have had sex within the last year from donating blood. "…when I'm president, I will direct the FDA to revise the rules based on evidence, based on individual risk factors, and without regard to the prejudice that has driven the current policy."
Photo via The New York TimesMassachusetts senator Elizabeth Warren said, "…I believe that everyone is entitled to medical care and medical care they need. And that includes people who are transgender who, it is the time for them to have gender-affirming surgery. I just think that's important."
Warren received a question about what she would say to someone who told her they believe marriage is between one man and one woman. "Well, I'm going to assume it's a guy who said that," Warren responded, "and I'm gonna say, 'Then just marry one woman. I'm cool with that. …If you can find one."
That's a pretty sick burn, Warren.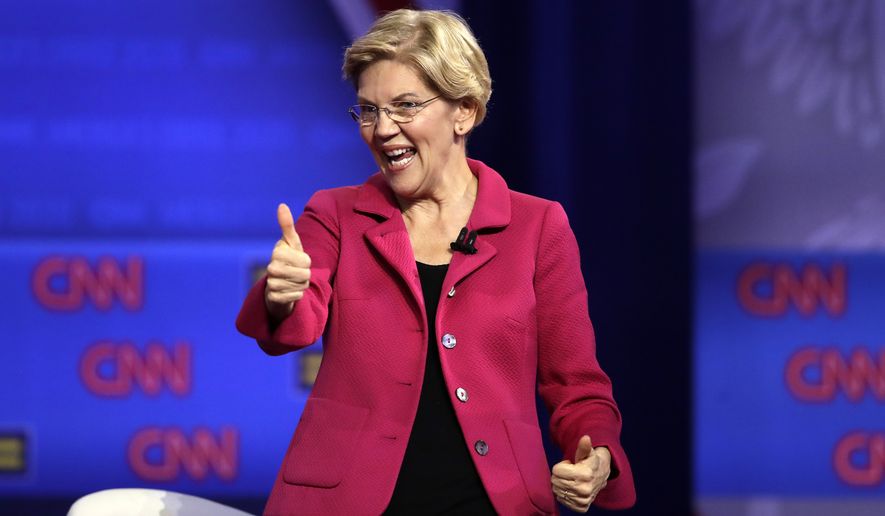 Kamala Harris, the California senator, declared her plan to end HIV/AIDS within a generation as a priority, telling an audience that she learned about the impact of the virus from her first campaign manager. She also vowed to tackle homelessness among LGBTQ youth.
Beto O'Rourke, former Texas congressman, said that conversion therapy, a widely discredited practice that attempts to change the sexual orientation of LGBT people, "should be illegal" because it is "tantamount to torture."
O'Rourke also said religious institutions should lose their tax-exempt status if they oppose same-sex marriage. "There can be no reward, no benefit, no tax break for anyone or any institution, any organization in America that denies the full human rights or the full civil rights of every single one of us," says O'Rourke, "And so as president, we are going to make that a priority and we are going to stop those who are infringing upon the human rights of our fellow Americans."
Minnesota senator Amy Klobuchar also said that conversion therapy should be illegal because it "makes no sense at all." Klobuchar then claimed she would recognize a third gender marker option on a federal level.
Julián Castro, the former Housing and Urban Development secretary, said he would make foreign aid dependent on the rights that other nations provide for their LGBT citizens.
Businessman Tom Steyer said he would put measures in place to improve health care access to LGBTQ asylum seekers. "I think it's absolutely critical for the United States of America to treat people in a humane and decent fashion," says Steyer.
The next Democratic presidential primary debate will be on Nov. 20, likely in Metro Atlanta, Georgia, and will be sponsored by MSNBC and The Washington Post.
About the Contributor
Avery Mancuso, Staff Writer
Avery Mancuso is a junior and first-year writer for the Highland Fling. She is a proud rat fanatic and feeds them better than she feeds herself. When she...